Website reservation privilege
When reserved from our Website
1. Advance Purchase benefits of 550 yen!

(Up to check-in day 30 days ago)

2. Website limited special plan offered.
3. Lowest price guaranteed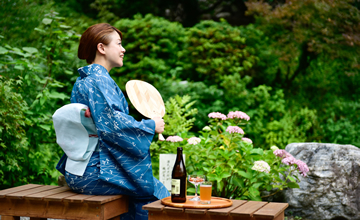 Hot Springs
"Onsen"
Large Public Baths, Wood baths, Private baths.
The source has been found in about 800 years ago.
Large Public Baths
Both public baths for men and women, have indoor baths and open-air bath individually.
Enjoy the beautiful scenery from public baths, locating on the top floor.
You can relax both physically and mentally with perfect view of mountains around.
Men

Open-air bath

Indoor Bath

Women

Open-air bath

Indoor Bath
Wood Baths
"Hinoki Buro"
Wood bath of calm atmosphere is a bath of cypress, "Hinoki Buro".
It is available for both men and women by shifting the hours.
Men 11:00~13:00/19:00~22:00 Women 13:00~19:00
Private Baths
Reservation required. Make the reservation before arrival, or at the check-in.
Hours: 12: 00 - 22: 00 (reservation available until 21:00)
Time: 50 minutes.
Tsuti (Soil Baths)

2,500 yen per 50 min.

Iwa (Rock Baths)

3,000 yen per 50 min.
Cuisine
We serve with a full course meal using seasonal local specialties from the river and the mountains.
Enjoy good looking cuisine on the attractive potteries.
You can enjoy the meal one by one on your appropriate time.
Facilities
The inn provides you the comfortable space with local woods and fresh flowers "Ikebana".
Check-in takes place in the lounge with a welcome drink.
Lounge will be the bar lounge at night.
We also have attractive facilities such as library, and children's playroom and more.
Large Public Baths
"Excelsior" Lounge

"Excelsior" Bar

Library

Children's playroom

Souvenir corner

Small lounge

Smoking room

Night view
Staff
Owner

"Waka-Danna"

Our Japanese style inn's theme is to live with trees. Please relax and refresh in rich nature.
sh to become Japanese hometown, with full of nature, for every customers.
Owner's wife


"Waka-Okami"

I used to be a musical actress, a singer, and a songwriter.
I would like to serve you the excitement and smile through variety of ways.
Access
By train
From Tokyo
Ikebukuro station (Tokyo)>

Express-"Red Arrow"
About 38 minutes

Hanno station >

Free shuttle bus
About 30 minutes

Taishoukaku
Free shuttle bus
Hanno Station >
Taishoukaku
10:30、11:45、15:20、16:30
Taishoukaku
Hanno Station
10:00、11:15、14:40、16:00、20:30
Free shuttle bus needs a prior reservation.
Reservation +81-42-979-0505, or please contact us by e-mail.
※Time required of free shuttle bus will be about 30 minutes.
By car
From Tokyo
About 1 hours 5 minutes
Nerima IC (Kanetsu Expressway) >

20 minutes

Tsurugasima JCT >

5 minutes

Sayama Hidaka IC >

40 minutes

Taishoukaku
About 1 hours 15 minutes
Hatsudai IC (Chuo Expressway) >

30 minutes

Hachioji JCT >

15 minutes

Ome IC >

30 minutes

Taishoukaku
Free parking (Reservation is not needed)
Guests arriving by car are available of free parking.
Search in Google map >> Taishoukaku